Gazprom tests unmanned cargo helicopters in the Arctic
First tested an unmanned cargo helicopters at the Vostochno-Messoyakhskoye oil and gas condensate field (Gydan Peninsula, yamama-nenets Autonomous Okrug) in Russia. The system is designed to transport heavy and oversized cargo to the Arctic.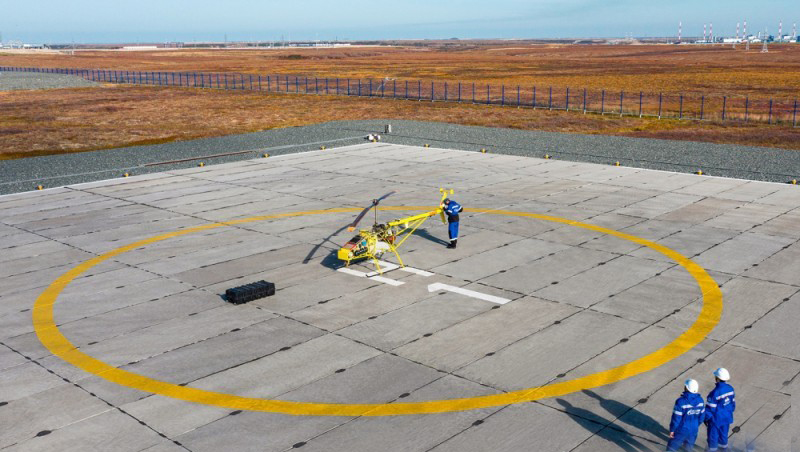 The "Tiber" UAV KAGU-150 has successfully completed several flights and delivered materials and technical resources to the oil field. The purpose of the test is to confirm the potential of unmanned driving technology in the operation and safe life support of the northern autonomous oil field. The project Implemented by Gazpromneft-Snabzhenie experts, representatives of domestic unmanned system manufacturer Tiber, and employees of Messoyakhaneftegaz.
The aerial robot is controlled by the company's logistics base in the village. Tazovsky successfully overcame the 130-kilometer route and transported 150 kilograms of cargo to the fields. The device has already demonstrated high-tech capabilities in the Arctic. The second phase of testing will be carried out at the Vostochny launch center in December 2020: airline developers and oil workers plan to test drones in severe cold. The introduction of unmanned driving technology into the logistics process of the northern oil field is a key task for Gazprom Neft.
The company transports hundreds of thousands of tons of engineering and drilling equipment, construction materials, and life support resources for oil production centers to independent oil fields through land and air transportation every year. The use of drones provides huge opportunities for oil workers to quickly and safely transport necessary resources to the oil field.
The Tiber helicopter test is the third test of unmanned logistics technology conducted by Gazprom Neft in its upstream assets in 2020. Previously, the company tested a freight ground transport vehicle that can work in autonomous mode in the Yamal and Yugra regions.
FlyDragon FD150
unmanned cargo helicopters
FD-150 unmanned cargo helicopters was launched by Flydragon UAV company's in 2021, it's use turboshaft engine, can payload 150kg, flight time is 3 hours, this drone can used for delivery, surveillance, rescue, etc.
Specifications:

Size: 3500mm * 1800mm * 1500mm
Payload: 150KG
Max takeoff weight:500KG
Flight time: 180 minutes
Engine: Turboshaft engine
Function: delivery, surveillance, rescue
Standard control distance: 50km
Cruising speed: 80-100km / h
Fly height:4500m
Anti-wind: 7
100 hours need routine maintenance
500 hours need major maintenance
1000 hours must need change engine