A new generation of hybrid electric drone is launched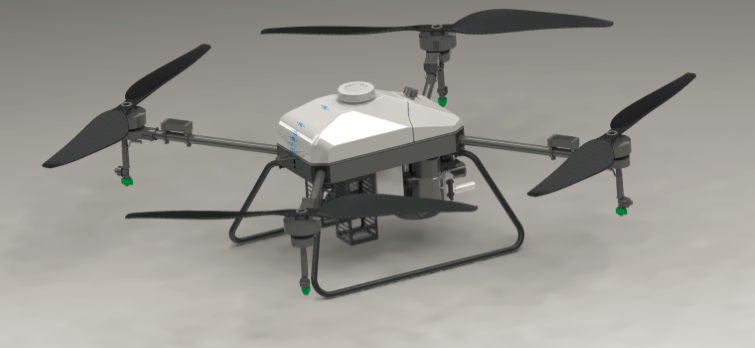 The hybrid drone is a new type of dual-power drone. Its power system is composed of two power systems, electric drive and conventional engine, in order to achieve a good take-off, climbing performance and quiet, ultra long flight time combination
, Bye Aerospace Corporation of the United States is committed to providing a variety of clean energy solutions that can be used to improve aircraft design for the international aerospace and defense markets. The company is currently planning to launch a hybrid called Silent Guardian Powered drone.
This type of drone uses very advanced solar photovoltaic films and batteries to provide energy for the electric propulsion device on the aircraft, so that it has excellent performance such as ultra-long endurance, quiet flight and low emissions. At the same time, the aircraft also uses a turbofan The engine is used to improve takeoff and climb performance. It is particularly worth noting that Bye Aerospace has also introduced the advanced "management by exceptions" concept on the "silent guardian" drone by using the operation optimization and emergency management software developed by BoldIQ, which enables When users use the UAV team and manage related tasks, they greatly improve their work efficiency and reduce the number of operators.
Bye Aerospace stated that "silent guardian" drones can be used militaryly for border patrols and domestic security alerts, search and rescue, visible light / thermal radiation reconnaissance, and frontier air control. Its potential civilian fields include disaster monitoring, Natural resource exploration, air law enforcement, transportation pipeline and power line patrols, wide-area climate monitoring, aerial photography, communication and data relay.
But Bye's hybrid drone is still in the experimental stage, and mass production is not yet possible.
On May 14, 2020, FlyDragon UAV launched a new generation of hybrid power generator system, FlyDragon launched a total of three generators, 2400W, 3600W and 6000W
2400W Generator power system
Hybrid Power System for drone FLY2400 generator is a high efficiency generator designed for multicopters. FLY2400 generator is only 4.2kg which is much lighter than any other generators that produce 2400w output power,
Specifications:

Weight: 4.5kg
Size: 201*258*161mm (LxWxH)
Applicable models: Multirotors/VTOL Fixed Wing
Max take-off weight: 18kg
Power voltage: 12S
Fuel consumption: 600g/kW*h (Hovering 1.5L/h)
Working Temperature: -20℃-40℃
Theoretical ceiling (Altitude): 1000m
Petrol: 95# or above (petrol+2T lubricant two-stroke lubricants that meet JASO FC/FDIOS-L-EGD standards)

Main Features:

1. Integrated design of Start up and power generation,and the air start function can be realized without relying on external starting equipment.
2. The one-piece design allows for easy suspension in all types of Frame kit and a variety of mission load suspensions on the bottom.
3. No need charge preparation time, no complicated ignition action, it can quickly perform tasks.
4. The backup battery can provide power for emergency short-range return or forced landing in an emergency.
5. For light load service, additional fuel tanks can be added to expanded to flight time to 4-6 hours.
6. Quick and easy engine installation method, conveneient to replace and maintain.

Package Included:

Hybrid powertrain x 1
6s 4000mah battery x 2
Starter x 1
Controller x 1
Spark plug wrech x 1 (Gift)
Petrol Proportional bucket x 1 (Gift)
3600W Generator power system
hybrid electric drone FLY3600 generator is a high efficiency generator designed for multicopters. FLY3600 generator is only 5.7kg , which is much lighter than any other generators that produce 2900w output power, so FLY3600 generator is five times the efficiency of other generators.
Specifications:

Weight: 5.7kg
Power: 2900 Watt continuous power/3600 Watt Max.
Size: 280x260x240mm (LxWxH)
Applicable models: Multirotors/VTOL Fixed Wing
Max take-off weight: 21kg, suggest take off weight is 20KGS
Rated voltage :MIX 44.4V MAX 50V 12S
Fuel consumption: 650g/kW*h (Hovering 4L/h)
Working Temperature: -20℃-40℃
Theoretical ceiling (Altitude): 1000m
Petrol: 95# or above (petrol+2T lubricant two-stroke lubricants that meet JASO FC/FDIOS-L-EGD standards)

Main Features:

1. Integrated design of Start up and power generation,and the air start function can be realized without relying on external starting equipment.
2. The one-piece design allows for easy suspension in all types of Frame kit and a variety of mission load suspensions on the bottom.
3. No need charge preparation time, no complicated ignition action, it can quickly perform tasks.
4. The backup battery can provide power for emergency short-range return or forced landing in an emergency.
5. For light load service, additional fuel tanks can be added to expanded to flight time to 3-5 hours.
6. Quick and easy engine installation method, conveneient to replace and maintain.

Package Included:

Hybrid powertrain x 1
Starter x 1
Controller x 1
Spark plug wrech x 1 (Gift)
Petrol Proportional bucket x 1 (Gift)

1: Intelligent cooling system: It can reduce heat consumption according to the high and low temperature of the engine cylinder.

2: LED intelligent display, real-time accurate display of speed, voltage, cylinder temperature and system status.

3: One-piece patented industrial design, dustproof and waterproof, easy to maintain
6000W Generator power system
Drone hybrid generator FL6000 is a high efficiency generator designed for multicopters. FL6000 generator is only 7.2kg , which is much lighter than any other generators that produce 600w output power,
specification

Size: 270*310*252mm (LxWxH)
Rated voltage :MIX 44.4V MAX 50V 12S
Maximum power: 6000W
Weight: 7.2 kg
Fuel tank capacity: 3.5L / 2L
Fuel consumption : 5L/H
Suggest rotor: EA118 KV95 & 38 inch propeller for Quadrotor
Max payload: 49KGS for spraying drone, 39KGS for industrial drone.
Fuel ratio: 25:1 (95# gasoline, FD grade 2T oil)
Working temperature: -20~45 degrees Celsius
Startup mode: one-button self-starting
Cooling method: forced air cooling

FL6000 advantages:
1: Intelligent cooling system: It can reduce heat consumption according to the high and low temperature of the engine cylinder.
2: LED intelligent display, real-time accurate display of speed, voltage, cylinder temperature and system status.
3: One-piece patented industrial design, dustproof and waterproof, easy to maintain.

Features
The integrated power generation design is started, and the air start function can be realized without relying on external starting equipment.
The one-piece design makes it easy to hang in all types of racks.
No need to charge preparation time, no complicated ignition action, can quickly perform tasks.
In a cold environment of -20 degrees Celsius, it can work stably.
The backup battery can provide power for emergency short-range return or forced landing in an emergency.
For light-load business, additional fuel tanks can be added and the range can be increased to 1.5-3 hours.
Quick and easy engine installation for quick and easy engine replacement and maintenance.

The three Generation system suite all of the industrial and agriculture drone