The growing demand for agriculture drone pilots

The current surge in energy in the drone industry has prompted an increase in the number of jobs for experienced agriculture drone pilots, and it will only increase. The use of fully compliant drone pilots registered with the relevant civil aviation authority ensures that farmers work with professionals who are experienced in the needs and challenges of agricultural surveying and surveying and understand the latest developments in agricultural technology.
The American Society of Crop Science perfectly summarized the most important contribution of drones to agriculture when quoting Tennessee State University professor Jason de Koff; "The simplest advantage of drones is that they can save a lot of time." Dekov explained further. road. "Rather than walking or taking a truck out to observe the fields, they can use drones to observe them in a shorter period of time and identify specific areas they might want to visit for closer inspection."
Current uses of drones in agriculture
Precision fertilization plan
Before the main growing season at the end of winter begins, drones are used to take hundreds of images of developing crops. These are used to create maps that help identify early patterns of early growth. This helps to clearly identify the areas where fertilizer needs to be sprayed. Therefore, farmers can plan spraying procedures at an unprecedented level of efficiency.
Weed and disease control plan
Similar to the fertilization plan, drones can take hundreds of images across the farm and organize data about where weeds grow.
Tree wooden figure
With its ability to easily obtain a bird's-eye view and large-area image mapping, the drone can be used to map the location and health of the trees in the orchard. The same applies to wood planting, where drones can monitor remote forestry locations.
Crop spraying
Previously, the most advanced crop spraying method was small aircraft. The drone can be programmed to spray different amounts based on the crop and its local needs.
Future uses of drones in agriculture
In the past, the only way to monitor large areas of farmland was spot checks. Farmers can only hope that during these random inspections, any future problems will appear in time. With drones, by collecting accurate and synchronized data across the entire farm at one time, farmers can more easily find problems before they spread or get out of control. Then take appropriate precautions.


Autonomous drone
The development and use of autonomous drones will allow more drone operators to enter the precision agriculture industry, as mission planning and flight control software will simplify and automate processes, allowing consistent and repetitive investigations, which may be faster and more rapid. Cost-effective. Farmers.
FlyDragon EFI hybrid 16L drone sprayer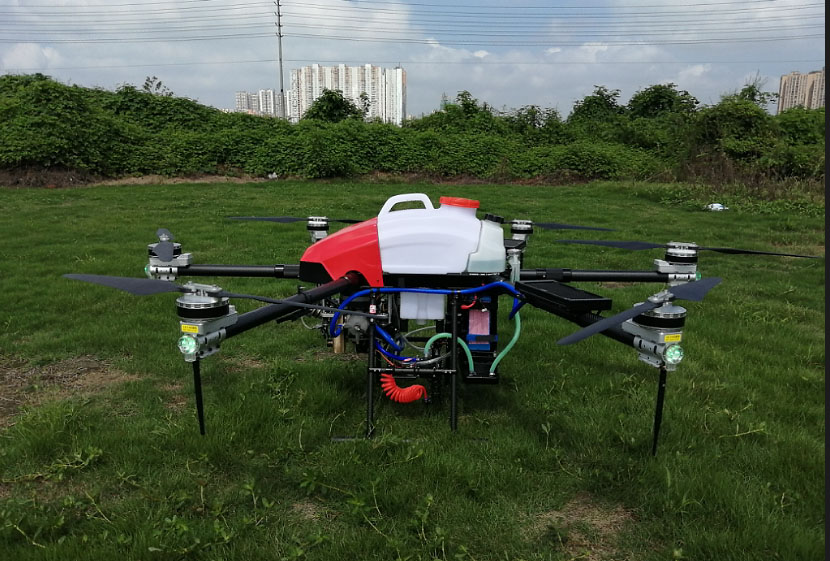 Drone spraying 16L /KGS hybrid drone Custom agricultural drone UAV for agriculture, herbicide spraying drone, pesticide sprayer drone.
Drone spraying is an agricultural spraying drone capable of carrying up to a 16 liters payload . Drone Sprayer is in production and equipped with a number of exceptional features. Possible Applications include: Agricultural Spraying (Herbicides, Fertilizer, Pesticides), chemical side trimming, fertilizing. Drones are quickly becoming the ideal solution for precision agriculture compared to traditional methods. Not only are drones more efficient, they're also more cost-effective while reducing the amount of labor. We specialize in the development and delivery of cost effective mission specific enterprise solutions.